Yummy Yoghurt (YY)
Yummy Yogurt (YY)
YY is a brand of natural yogurt owned by a large public limited company. The yogurt is produced from organic milk and natural ingredients in the YY factory. The factory uses flow production with a different variety of yogurt made each day.
The factory runs for 24 hours a day, 5 days a week. YY's varieties and some market data is shown
in Table 2.1.
Table 2.1: Varieties and market data of YY's yogurt
| | | |
| --- | --- | --- |
| Variety | Annual sales (million units) | Estimated price elasticity of demand |
| Strawberry | 2 | –0.9 |
| Cherry | 3 | –0.8 |
| Banana | 6 | –1.1 |
| Mango | 3 | –1.5 |
All the varieties are sold at a price of $1 per unit. YY branded products have a high-profit Margin.
The owners of the YY brand would like to develop a new variety to expand the product portfolio. This new variety would be targeted at parents as a lunchtime snack for their children. The Marketing Director has been told to do some market research into potential new varieties of yogurt.
A large supermarket group would like to start a joint venture with YY. The supermarket wants to buy YY's yogurt, but branded with the supermarket packaging. If the directors of YY agree, this is expected to increase YY's annual sales by 25% and improve the cash flow of the business. However, the joint venture would mean YY's profit margin for supermarket branded chips would be lower than YY's branded chips. The manager at the factory where YY's yogurt are produced also has other concerns about the joint venture.
Recruitment Health Zone (RHZ)
RHZ is a public limited country in country X that provides recruitment services. It specialises in finding suitable doctors, nurses and other health care staff for hospitals throughout country X. Hospitals pay RHZ a fee for each healthcare professional they recruit.
Fig. 1.1: RHZ mission statement
RHZ is one of the largest recruitment businesses in country X. It benefits from many economies of scale but also suffers from some diseconomies of scale. There is an outlet of RHZ in every main city in country X.
Each outlet must cooperate with the others to provide the best service to those health care workers looking for new employment and hospitals looking for new employees.
The employees of RHZ are all highly trained and skilled. They work in three different departments (see Table 1.1).
Table 1.1: Employee data for RHZ
| | | | |
| --- | --- | --- | --- |
| Department | Main functions | Total number of employees | Department Main functions number of employees who left in 2020 |
| A | Dealing with health care staff looking for jobs | 8500 | 1370 |
| M | Dealing with hospitals looking for workers | 6000 | 575 |
| Z | Paperwork and general administrative duties | 900 | 150 |
The management team at RHZ are concerned about the poor motivation in Department A, which has led to high labour turnover. They interviewed those leaving Department A to ask for their reasons for leaving (an exit survey). The results are shown in Fig. 1.2.
Fig. 1.2: "Main reasons given by employees for leaving Department A"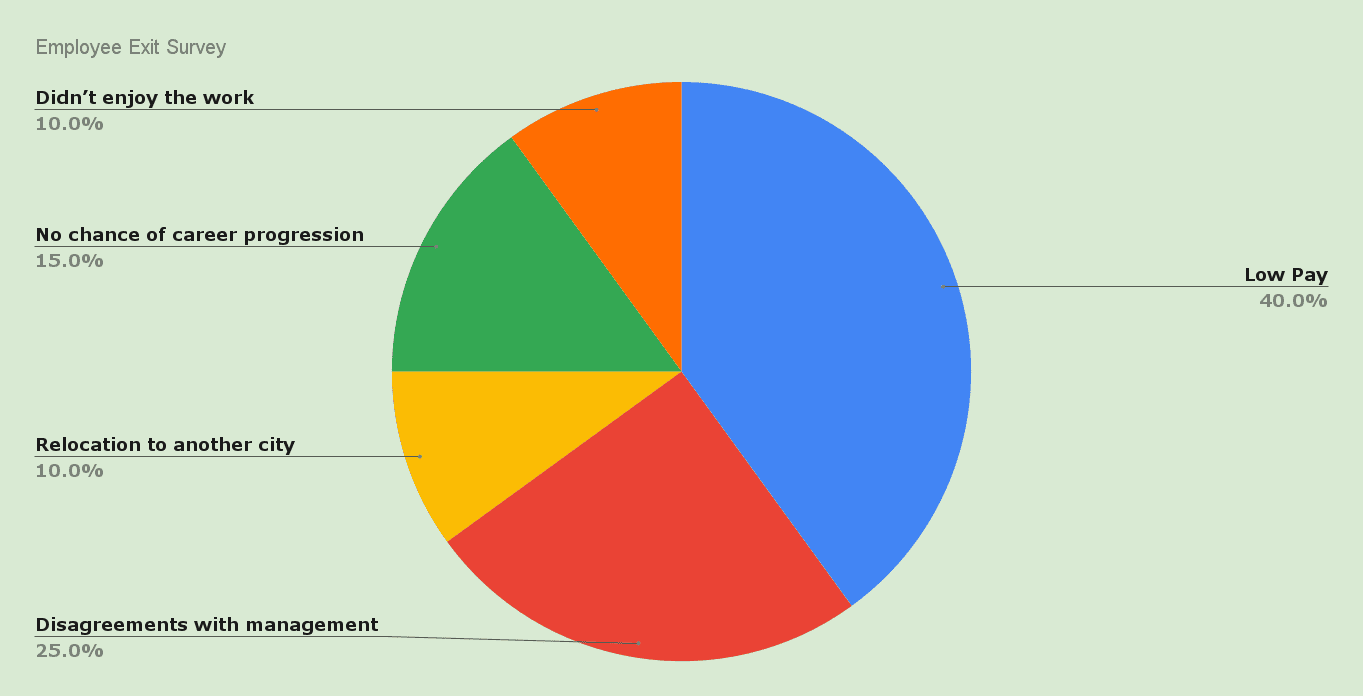 Awesome Avocadoes (AA)
Isabel is an Avocado farmer. Her farm is located on the edge of a busy town. The main output from her farm is avocados. The avocados are packed into AA branded boxes made with recycling materials and transported by electric trucks to customers. AA are marketed as environmentally friendly avocados. The avocados are sold through various channels of distribution.
AA has an excellent reputation for fresh, juicy avocados. It offers a 'money-back' guarantee if the consumer is not happy with the quality of the avocados. All the avocados are labelled with a 'best before' date which gives the consumer an idea of how long each avocado will remain fresh.
Isabel has two production lines at the farm; one for the industrial market and one for the consumer market. Table 1.1 contains some data about the two production lines.
Table 1.1: Production line data
| | | |
| --- | --- | --- |
| | Production Line A | Production Line B |
| Type of market | Industrial | Consumer |
| Number of employees | 3 | 7 |
| Sorting process | None | avocados sorted into small, medium and large |
| Packaging | Trays of 20 avocados | Boxes with 3 of the same size avocado in each box |
| Total variable costs | $2.10 per tray | $0.25 per box |
| Price | $4.50 per tray | $0.70 per box |
The fixed costs for the business are $12 000 per month. These are allocated equally between the two production lines.
Isabel would like to expand AA by renting more land to grow avocados and opening a new production line.
The new production line would require 4 employees who would need to be recruited and trained. It would specialise in sorting and packaging avocados that will be sold to retailers.
Isabel feels that she is good at listening to her workers and has an understanding of their concerns. However, she is concerned that the management functions she has to perform during and after the expansion might be too much for one person. She also thinks that her laissez-faire leadership style may not be appropriate for this type of business.
Eco Motorbikes (EMB)
EMB is a private limited company producing electric motorbikes. Market research suggests that electric motorbikes are in the introduction stage of the product life cycle. The demand for electric motorbikes is likely to increase rapidly in the next 5 years. EMB is based in country Z, where it is one of four electric motorbike manufacturers. However, other manufacturers have plans to start producing electric motorbikes if the forecast market growth is correct.
EMB's promotion has only been aimed at high-income groups. The government of country X recently announced that it will support the use of electric motorbikes. This will help EMB to achieve its objective to increase sales volume by 40% over the next two years. The marketing department is considering using promotion on the internet to increase sales.
EMB initially launched its motorbikes using a price skimming strategy but sales growth has been slow. If EMB can achieve a 40% growth in sales over the next two years, it will be in a strong financial position. This means it will be able to spend more on the development of a larger product portfolio of electric motorbikes.
Nadia, the Finance Director, has produced forecasts for EMB's financial data over the next two years, as shown in Table 2.1
Table 1.1: Extract from EMB's forecast financial data
| | | |
| --- | --- | --- |
| | 2022 ($m) | 2023 ($m) |
| Inventories | 4 | 5 |
| Cash | 1 | 2 |
| Trade receivables | 1 | 2 |
| Trade payables | 3 | 3 |
| Current ratio | 2 | X |
Eco-Friendly Fishing (EFF)
EFF is a co-operative of fishermen and women in country Z, in an area of low economic development. Fish are sold in the EFF shop and at fish markets. EFF's mission statement is in Fig. 1.1.
Sustainable fishing, to build a sustainable local economy with sustainable jobs for local people.
Fig. 1.1: EFF's mission statement
The co-operative has 30 members who catch fish, and sell fish in the shop and at the fish markets. EFF keeps the prices of its fish affordable so local people can have access to fresh healthy food.
Over the past 15 years, EFF has built up a loyal customer base. Recently, a local fish packing factory has become available to purchase for $110 000. EFF has limited capital but would like to expand by purchasing the factory.
EFF is considering sources of finance for the capital needed to buy the factory. Benedict is one of the founding members of the co-operative and has accounting skills. He has prepared the cash flow forecast shown in Table 1.1 in the business plan for the fish packing factory.
Table 1.1: Cash flow forecast for the fish packing factory
| | | | | |
| --- | --- | --- | --- | --- |
| | Quarter 1($000) | Quarter 2($000) | Quarter 3($000) | Quarter 4($000) |
| Cash Inflows | | | | |
| Revenue | 0 | 0 | 40 | 150 |
| Total cash in | 0 | 0 | 40 | 150 |
| Cash Outflows | | | | |
| Set-up costs | 60 | 0 | 0 | 0 |
| Equipment | 10 | 10 | 0 | 10 |
| Training | 40 | 0 | 0 | 0 |
| Total cash out | 110 | 10 | 0 | 10 |
| Opening balance | 0 | (110) | (120) | (80) |
| Closing balance | (110) | (120) | (80) | X |
EFF will use the factory to package the fish so they can be sold in supermarkets in Country Z. The factory also has office space EFF can use to educate local people on sustainable fishing techniques.
The 30 members of the co-operative already work very long hours. The members are discussing whether they should allow more members or become a public limited company (plc) and employ the extra workers required.
To become a public limited company would require the agreement of all 30 members. Some members are in favour of the change to a public limited company as they feel decision making is too slow in the cooperative. However, other members feel that it would conflict with their mission statement.
Faster 5G (F5G)
F5G is a public limited company. It is a mobile internet provider. The business provides high-speed mobile internet connections to smartphone users within country A. Customers pay an average of $30 per month for the service. More than 90% of consumers in the country can access F5G's services but many consumers do not yet have a 5G smartphone required to get a high-speed internet connection.
The business offers new customers a free smartphone if they sign a contract for a minimum of 18 months. Very few of F5G's customers switch to a competitor's service after the minimum 12-month contract has finished.
The mobile internet market is very competitive. F5G has an objective to become the most profitable internet service provider in country X. The Marketing Director, Marianne, believes that if F5G is going to achieve its objective then the company needs a wider customer base. She thinks that the key to gaining more new customers is to focus on promotion to consumers who don't already have 5G smartphones.
Marianne has prepared some secondary market research comparing F5G with its main competitors in country A (See Table 2.1). Some of the directors are disappointed with the financial performance of F5G compared to its competitors.
Table 2.1: Research about the internet service providers in country X, 2018
| | | | |
| --- | --- | --- | --- |
| | Faster 5 G (F5G) | Connect-U-Like (CUL) | 1 World Mobile (1WB) |
| Market share | 30% | 32% | 15% |
| Value of market share | $11.6 bn | $12.8bn | $6bn |
| Gross profit margin | 74% | 70% | 70% |
| Net profit margin | 9% | 12% | 16% |
| Working capital | ($45000) | $300000 | $0 |
| Current ratio | 0.9:1 | 3:1 | 1:1 |
Gordon's Cafe (GC)
Gordon worked for 30 years as a manager of a factory. Although he was very good at the job he was recently made redundant.
Gordon always wanted to open a cafe. He thinks he has the qualities an entrepreneur is likely to need for success. He has undertaken some primary market research to identify possible opportunities in city Z where he lives.
Gordon now needs to make a decision about which type of cafe to open. He has used the data in Fig. 1.1 and some secondary market research to identify two options.
Option 1: French Style Cafe
The coffee shop would provide hot drinks that customers could take away and drink elsewhere. It would also sell some bakery items, such as croissants and pastries. There are three other cafes selling takeaway hot drinks and bakery items in the city, as well as four shops. Gordon thinks that the profit margin would be 5% to 7%.
Option 2: Pizza Slice Cafe
The sandwich shop would make pizzas using job production. Customers can choose from a range of pizza toppings, as well as cold drinks and salads. There are two competitors in city Z. Both are well-known international franchises that spend a lot of money on promotion. Gordon thinks that the profit margin would be 12% to 14%.
Handcrafted Cycles (HC)
HC is a small private limited company with 5 shareholders. Its unique selling point is that its bicycles are handmade. They are aimed at wealthy cyclists living in cities. Its latest product, a, called the Retro Cycle, has become a fashion item amongst young adults.
Demand for these bicycles exceeds the ability of HC to supply them. Stores are desperate to secure more inventory in order to make the most of the high demand. HC sells these bicycles for $500 each. It is considering how to respond to the excess demand.
If HC increases the price of the Retro Cycle then the price elasticity of demand is estimated to be –2. The quantity demanded at the current price is 120 000.
If HC increases the supply of Retro Cycles it would require investment. The new machinery would cost $300 000 and allow mass customisation. The concern is that this fashion may not last.
The work will be a lot less skilled, although a design team will still be required to develop future bicycles. HC's employees take great pride in their work and are very loyal to the company and their co-workers. Most of the employees have been with the company for over 5 years and enjoy good relationships with all the directors.
Hannah, the Marketing Director, thinks HC should make the most of the fashion for the Retro Cycle by extending the product life cycle.
Nativity Trees (NT)
NT was set up by Santiago Klaus 50 years ago. It is a private limited company with all of the shares owned by the Klaus family. Santiago has managed the business since it began and he is well-liked as the figurehead of the business. NT cuts down trees and processes them into Christmas Trees which are sold in high numbers during the Christmas holiday season in Country X. The trees are loaded onto trucks and trains for delivery to customers. All of NT's trees are sold in industrial markets. NT is a labour-intensive business that has over 100 employees. Demand for trees is seasonal. NT maintains a steady rate of production but the business cannot afford to hold high levels of inventory. Table 1.1 shows a cash flow forecast for the next three months.
Table 1.1: Cash flow forecast for NT
| | | | |
| --- | --- | --- | --- |
| | Month 1($000) | Month 2($000) | Month 3($000) |
| Cash Inflows | | | |
| Revenue | 300 | 155 | 100 |
| Total cash in | 300 | 155 | 100 |
| Cash Outflows | | | |
| Labour | 120 | 120 | 120 |
| Inventory storage | 5 | 10 | 50 |
| Expenses | 5 | 5 | 10 |
| Total cash out | 130 | 135 | 180 |
| Opening balance | 10 | 180 | 200 |
| Closing balance | 180 | 200 | 120 |
The workforce is currently demotivated. Employees receive a basic wage and a share of the profits. In the last four years, profits have been falling and the company is struggling to break even. The demand for trees is decreasing, as businesses use more recycled products. NT does not have any environmental targets and this has also reduced demand. Santiago is now 70 years old and wants to stop managing NT. His grandson, Brad, is keen to become the new Managing Director. Brad went to university and studied Mintzberg's management roles. He believes that he has all the skills needed to become the next Managing Director of NT.