The IGCSE Cambridge International syllabus changed in 2020 so there are some changes you need to know in order to score the highest grades in IGCSE Business Studies.
We will go through the updated exam technique step by step, with an example from March 2020 so you can follow the most effective and efficient method to gain top marks.
The IGCSE question we are going to look at is from Unit 2 People in Business.
(b) Consider the three main styles of leadership Bob could use in his business. Which leadership style do you think he should use? Justify your answer
Leadership Style 1
:………………………………………………………………………………………………………………………………………………………………………………………………..
Leadership Style 2
:………………………………………………………………………………………………………………………………………………………………………………………………..
Leadership Style 3
…………………………………………………………………………………………………………………………………………………………………………………………………..
Recommendation
:……………………………………………………………………………………………………………………………………………………………………………………………[12]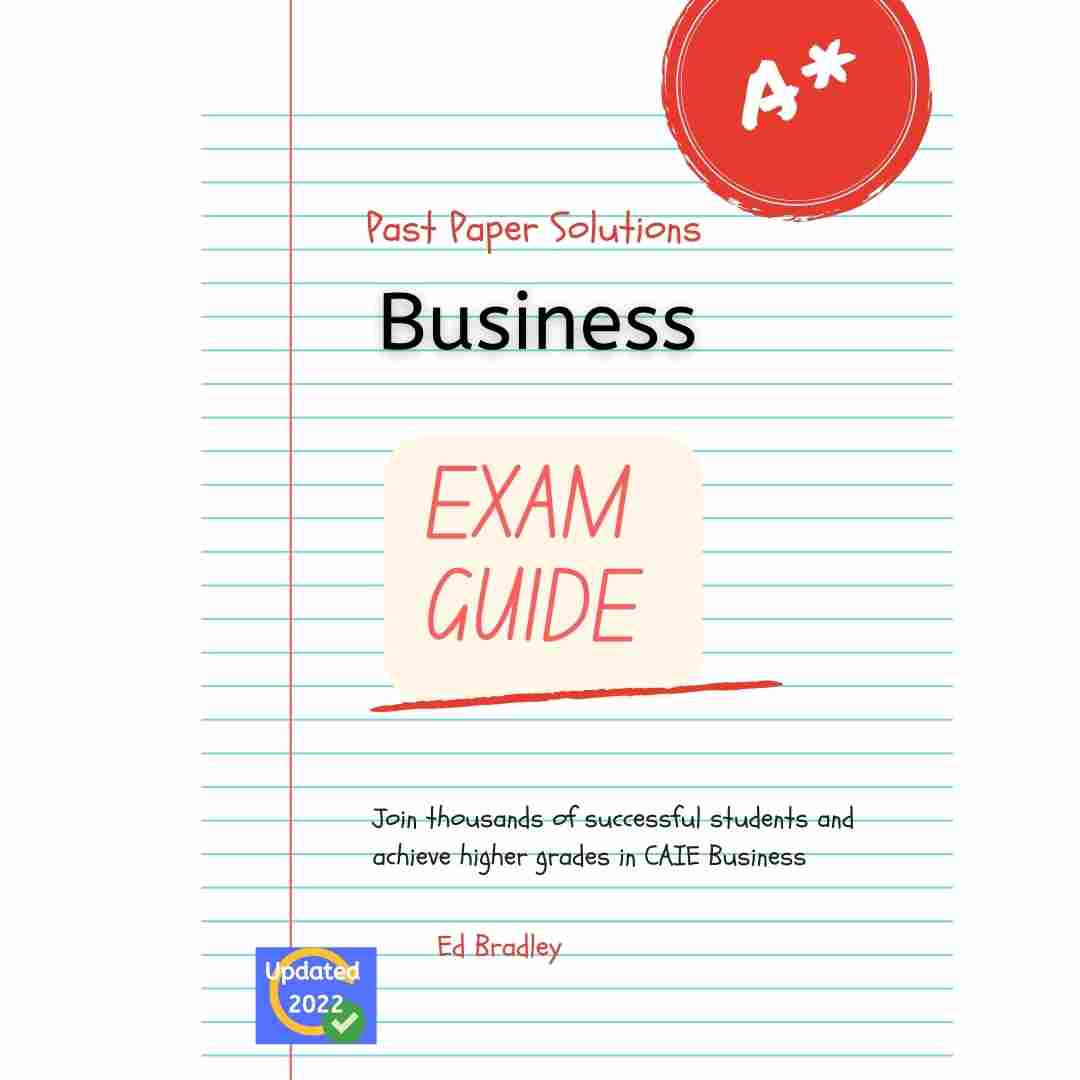 Step by step instructions on how to score top marks in 12 mark "B" questions in Cambridge International IGCSE Business Studies.
Total Time: 12 minutes
1. Prepare to answer a 12 mark question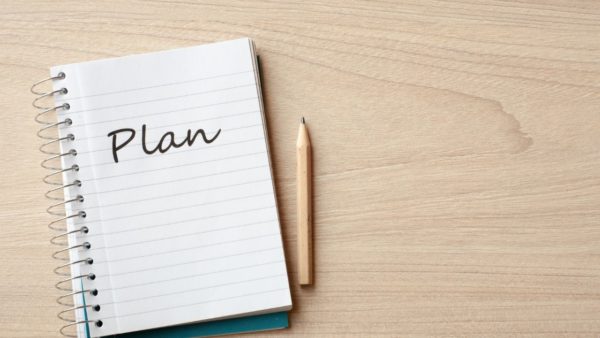 With 12 mark questions application is absolutely crucial.  It can be helpful to have a mental check list of questions you ask in every case study like "What is the business's objective?" "What is the size of the business?" "Is the business in a growth market?"
With Bright Windows, from March 2020, the owner Bob is a sole trader.  It's a small business cleaning windows with two part time employees and his objective is to grow and get more regular customers so he grows his customer base. We will look at 3b where we must consider 3 different leadership styles.
2. Use the correct structure for a 12 mark answer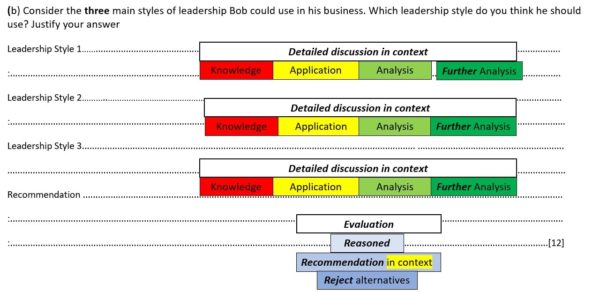 For each leadership style the updated 2020 mark scheme asks for a "detailed discussion in context" But what does this mean? Essentially, we need 4 vital ingredients to secure top marks. Knowledge and Understanding, Application, Analysis and Further Analysis.
We repeat this process for the other leadership styles.
The recommendation requires the 3R's, a reasoned recommendation in context, and rejection of the alternatives.
3. Use the case study to add application

What's absolutely critical for success is ensuring your answer is focused on which leadership style will work best for Bob's window cleaning business, so keep referring to information from his business throughout your answer.
You can see from this finished A* answer highlighted how focused a top answer is on Bob's Bright Windows throughout the answer.
4. Complete the first section (autocratic leadership)


We need to show knowledge and understanding of the leadership style in Bright Windows:
"Autocratic leadership is where Bob makes all decisions without consultation and communication is one-way with employees having no opportunity to comment or take part in any decisions about the cleaning services"
Then explain the impact for analysis:
"which can be demotivating."
To make sure we get full marks in this section, we need to take the analysis one step further. A good way of doing this is by using connectives like "this means that" or "this will lead to" in this case demotivation will lead to lower profits.
To cover all bases this answer also gives an advantage of autocratic management. A* answers do require "balance" by giving another point of view.
5. Complete the second section (democratic leadership)






The next factor is democratic leadership we need to show knowledge and understanding of the leadership style in Bright Windows and its impact.
Then follow up by taking the analysis one step further.
6. Time Management


If you are running short of time skip one of the explanations and go straight to your recommendation. You can still get 9 or 10 marks if you explain two factors and then complete a well-justified recommendation.
7. Add the third section (lassiez faire leadership)


For 'Lassiez Faire,' it is important to explain clearly why it's different from democratic, so the employees have much more freedom to carry out tasks as they choose. With this one, the further analysis is giving another point of view and again adding balance to the discussion.
8. Plan your evaluation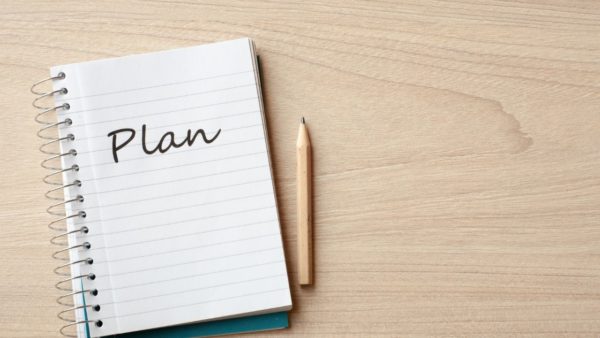 Your recommendation is worth 4 marks – a third of this answer. Spend a bit of time to think through which choice will be best, based on the information in the case study. Use the three R's – reasoned recommendation in context, rejection of the alternatives.
9. Write your evaluation




So now it's time for the hardest part the dreaded evaluation. One trap that many students fall into with evaluation is just repeating the information from the earlier parts of the answer in a summary. You must make a reasoned recommendation, based on the evidence in our answer, and in Bright Windows, which leadership style is best to use.
A good way of doing this is to choose the leadership style which is most likely to help Bob meet his objectives. In this A* answer the student focuses on how democratic leadership will positively impact Bright Windows in improving it's reputation and increasing Bright Windows' customer base.
Democratic is best as it suits Bob's business objective of gaining new business by building his customer base, by finding out what they want from asking his employees and building a positive reputation for good service from motivated employees.
Then they reject the alternatives by explaining how they are not as suitable as democratic:
"Lassiez Faire will mean he has less control over his employees and service so it might damage his reputation. Autocratic means he won't get valuable information from his employees on customer preferences."
Find more A* 12 mark exemplar answers here.
Want to see how to use the power of online learning to ace IGCSE Business Studies?